The world of cryptocurrencies looks set to make a long-awaited step towards the mainstream after it was announced that PayPal would be accommodating Bitcoin and some major altcoins. 
PayPal's arrival onto the crypto landscape opens the likes of Bitcoin, Ethereum, Litecoin and many other major coins to a market of 346 million users and an unprecedented level of investment. 
But you don't have to wait until PayPal is up and running to buy into cryptocurrencies. There are countless great exchanges out there that offer a wide range of different assets with their own various levels of potential and uses. 
Whether you're looking to dip your toes into the water and check various coins out for yourself, or you're planning on investing heavily in the world's most appreciating assets, these exchanges will help you to beat the PayPal rush and offer a huge range of prospective cryptocurrencies to buy into: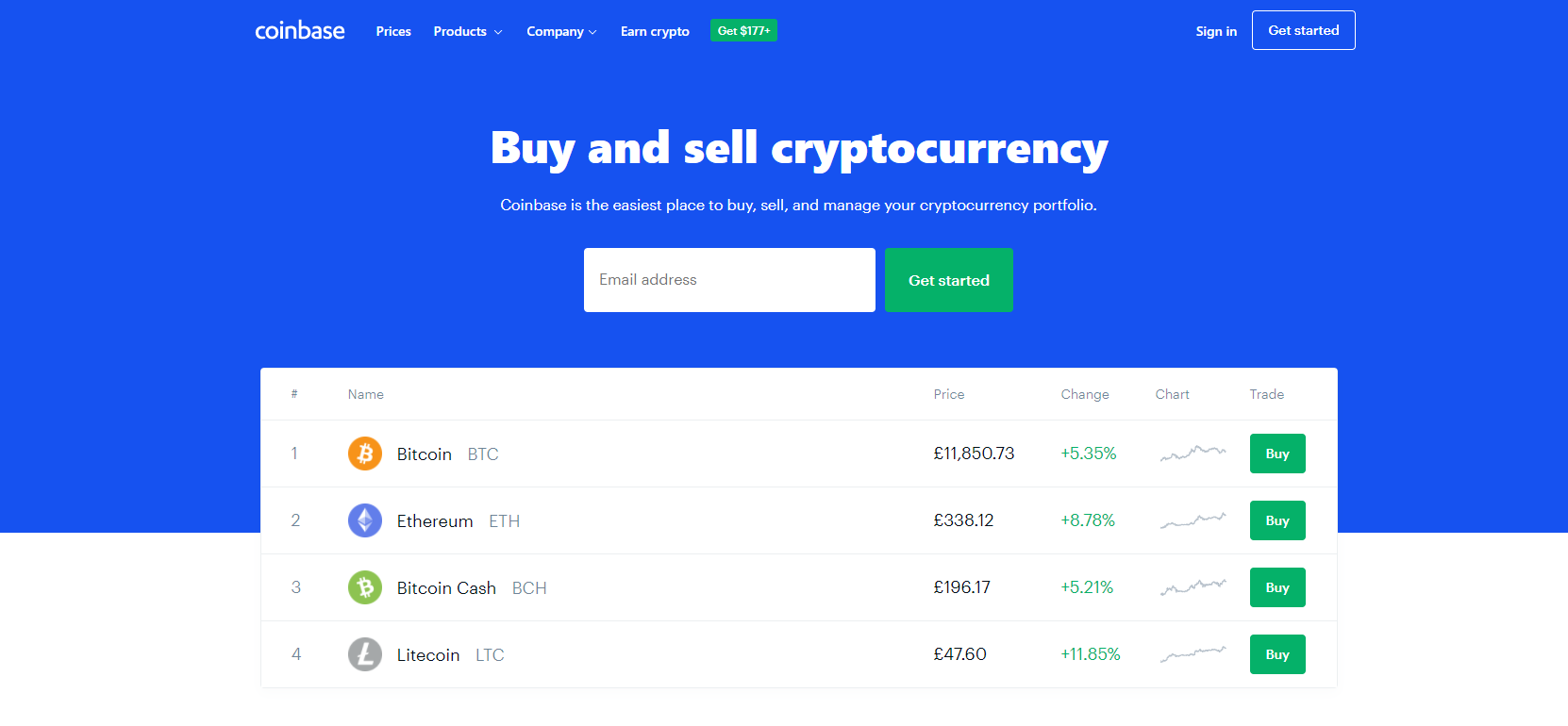 Coinbase is arguably the most popular cryptocurrency exchange in the world, with over 30 million customers and comprehensive features. 
Due to its status among crypto exchanges, Coinbase makes for an ideal and user-friendly place for investors to begin buying and selling cryptocurrencies. The platform offers plenty of guidance for inexperienced traders and even safe cold storage for wallets to ensure more security. 
The wallets offered by Coinbase are also covered by the platform's insurance system – ensuring that your holdings are well protected in adverse scenarios. 
Due to the level of security offered by Coinbase, many major coins have been omitted from the exchange – such as Monero and DASH – due to privacy issues with the coins. For many years, Coinbase had gotten by without offering any more than the three major assets in Bitcoin, Ethereum and Litecoin, however, this has changed in recent years with the exchange listing an ever-increasing number of assets – including DeFi tokens. 
Sadly, the user-friendliness and popularity of Coinbase has enabled the platform to charge heavier prices for transactions and withdrawals – meaning many traders will have to work harder to see tangible profits from their efforts. Support waiting times have also been known to be an issue due to the large volume of users on the exchange.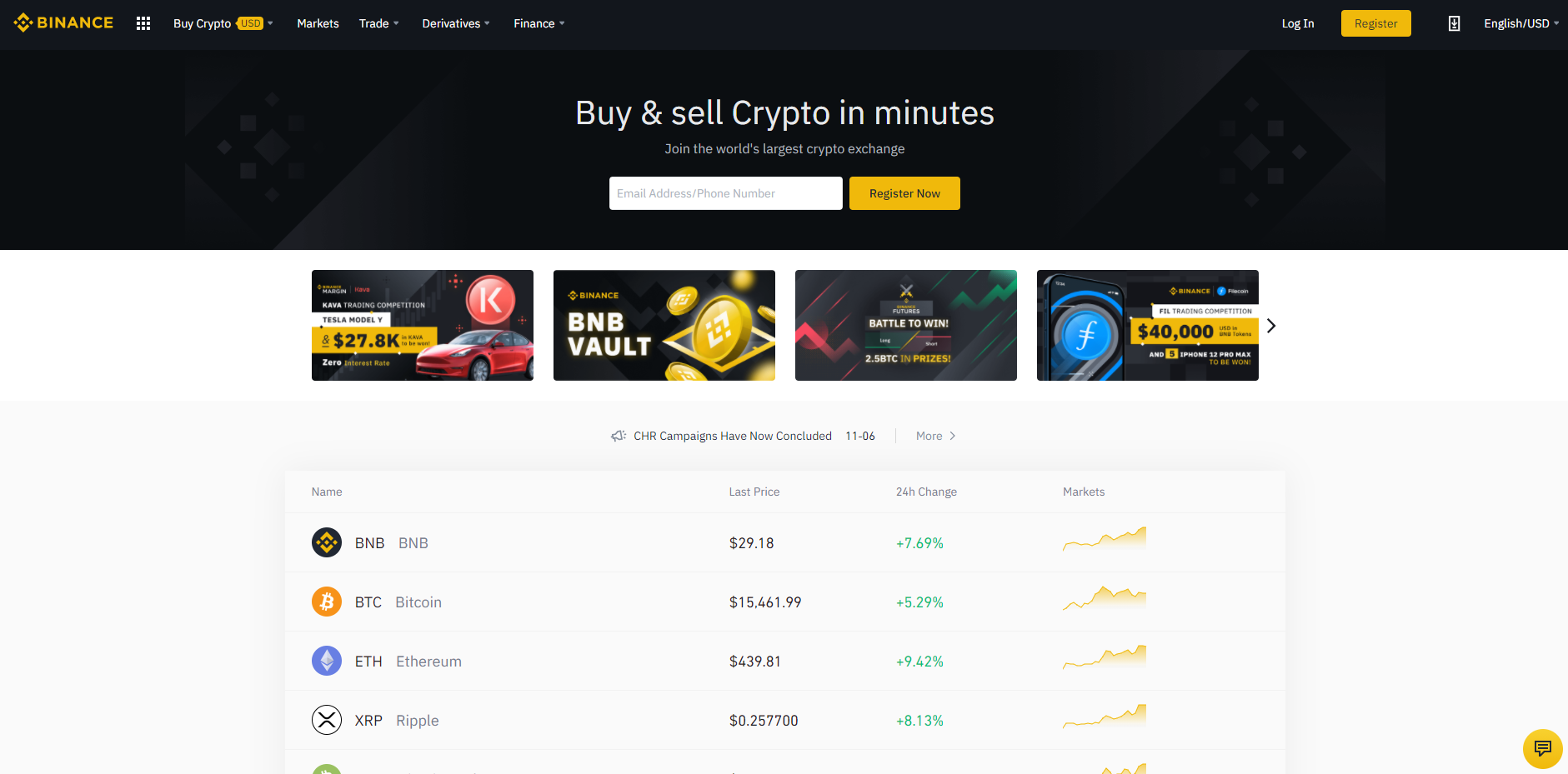 Founded in 2017, Binance has quickly established itself as one of the most complete and comprehensive exchanges in the crypto landscape. 
While Coinbase is certainly a strong option for newcomers to the world of crypto trading, Binance is an altogether more technically advanced prospect. With over 500 trading pairs available to choose from, and an abundance of intricate features and visualisations, experienced traders can gain a rich understanding of the world around them and make more informed investment decisions. 
Binance is a huge name in when it comes to crypto, and the exchange even has its own token (BNB), which offers users many excluding rights like launchpad investing eligibility, lower trading fees, ability to convert low crypto balances into BNB, and plenty more. 
The reputation of Binance in the crypto industry was bolstered in 2019 after a significant cyberattack on the exchange saw thieves steal $40 million in Bitcoin from traders. But Binance's SAFU fund meant that all losses were covered by the exchange and all traders were remunerated in full immediately. 
However, it's important to note that due to the complexity of Binance, it may not be an ideal exchange for absolute beginners to the crypto market, and there's a lack of telephone support from the platform – which may be off-putting to some.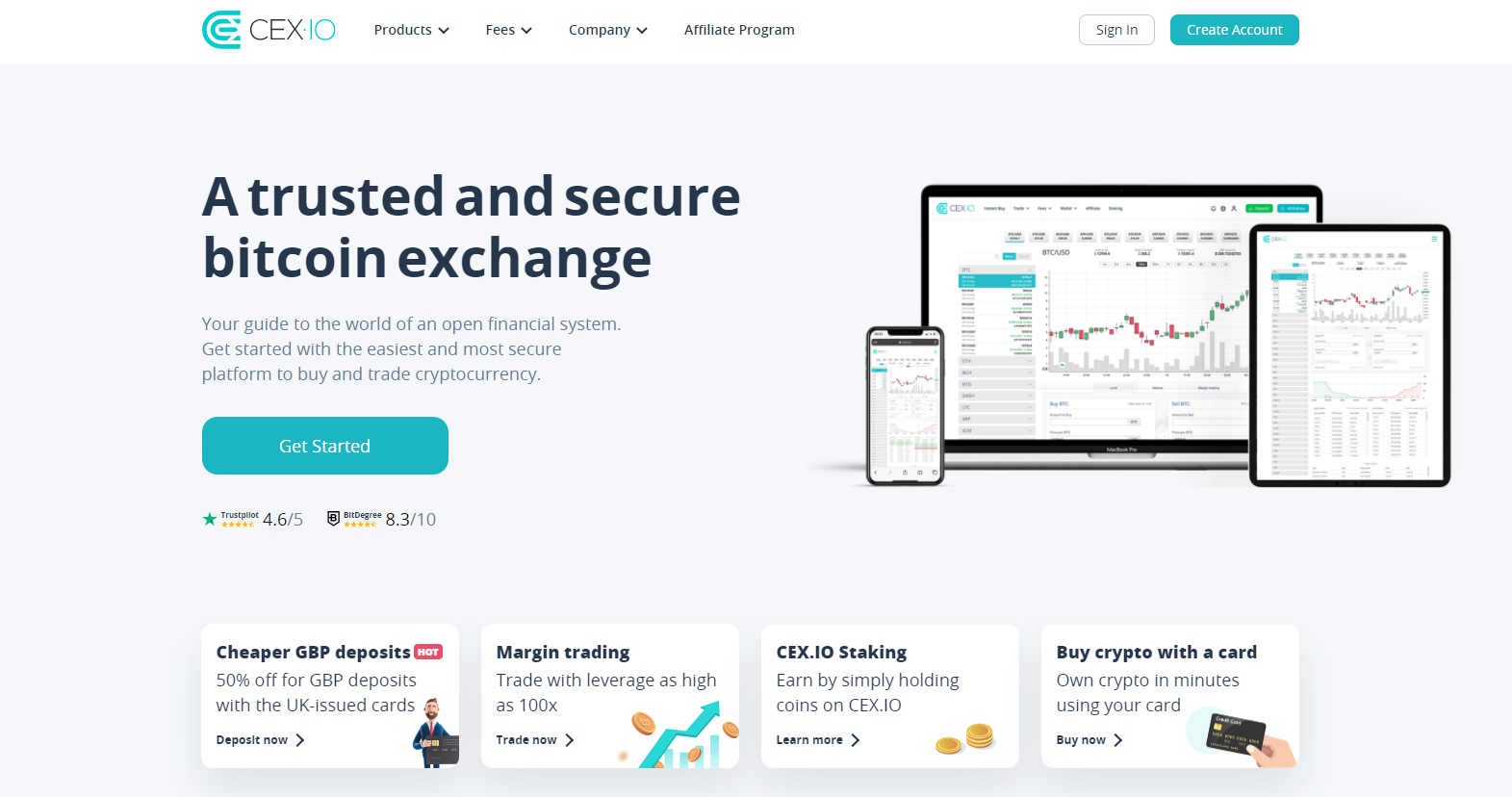 Founded in 2013 and with services available in 95% of countries worldwide, CEX has a wealth of industry experience and a wide reach across the world of crypto. 
One of the most striking things about CEX is its intuitive but simple interface. Much like Coinbase, CEX is well regulated by FinCEN and supports a wide range of fiat deposits. The platform is also highly secure from cyber threats to accounts. 
Furthermore, CEX offers up to 54 trading pairs, among 15 popular cryptocurrencies while greatly focusing on both stability and compliance. 
CEX is certainly an easy to use platform with a healthy level of insights available – especially for newer traders. However, the platform does prop up its security levels with an extensive verification process that some users may find exhausting. Associated fees with the platform are relatively high too – with as much as 2.99% being charged for cash deposits.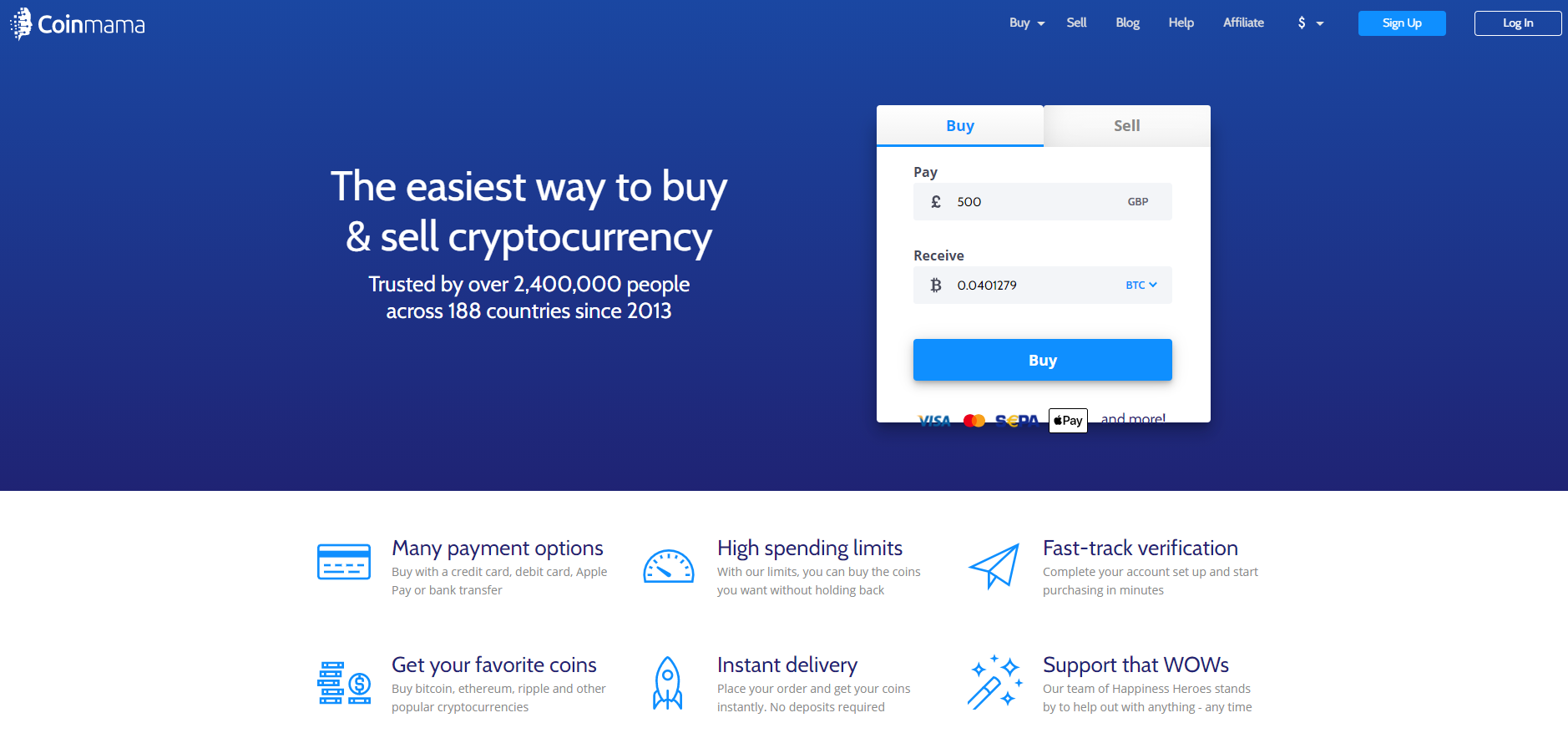 Coinmama is a tailor suited service to bring cryptocurrency trading to industry newcomers. This means that many of the platform's best features revolve around usability and accessibility. 
The features offered by the platform aren't bewildering for newbies, and it's possible to buy and sell one of the 10 listed cryptocurrencies on the exchange. You won't find wallets, portfolio charts or complicated functions here, just a direct connection to the cryptocurrency world. 
With Cryptomama's userbase of over 2.4 million people, it's clear that the platform's simple interface is a big draw for investors. The exchange is also available in an impressive 188 countries around the world. 
The best thing about Cryptomama's platform is that it actively attempts to educate its audience through the use of guides and hands-on support – making it one of the very best platforms out there for inexperienced investors. 
However, like many user-friendly and trustworthy exchanges out there, Coinmama carries relatively high fees. In fact, the combined fees associated with credit card purchases amount to as much as 10.9%, whereas wire transfer fees are much lower at 5%. 
Investors may also grow tired of the simplified range of features offered by Coinmama, instead choosing to move on to more intricate exchanges like Binance before long.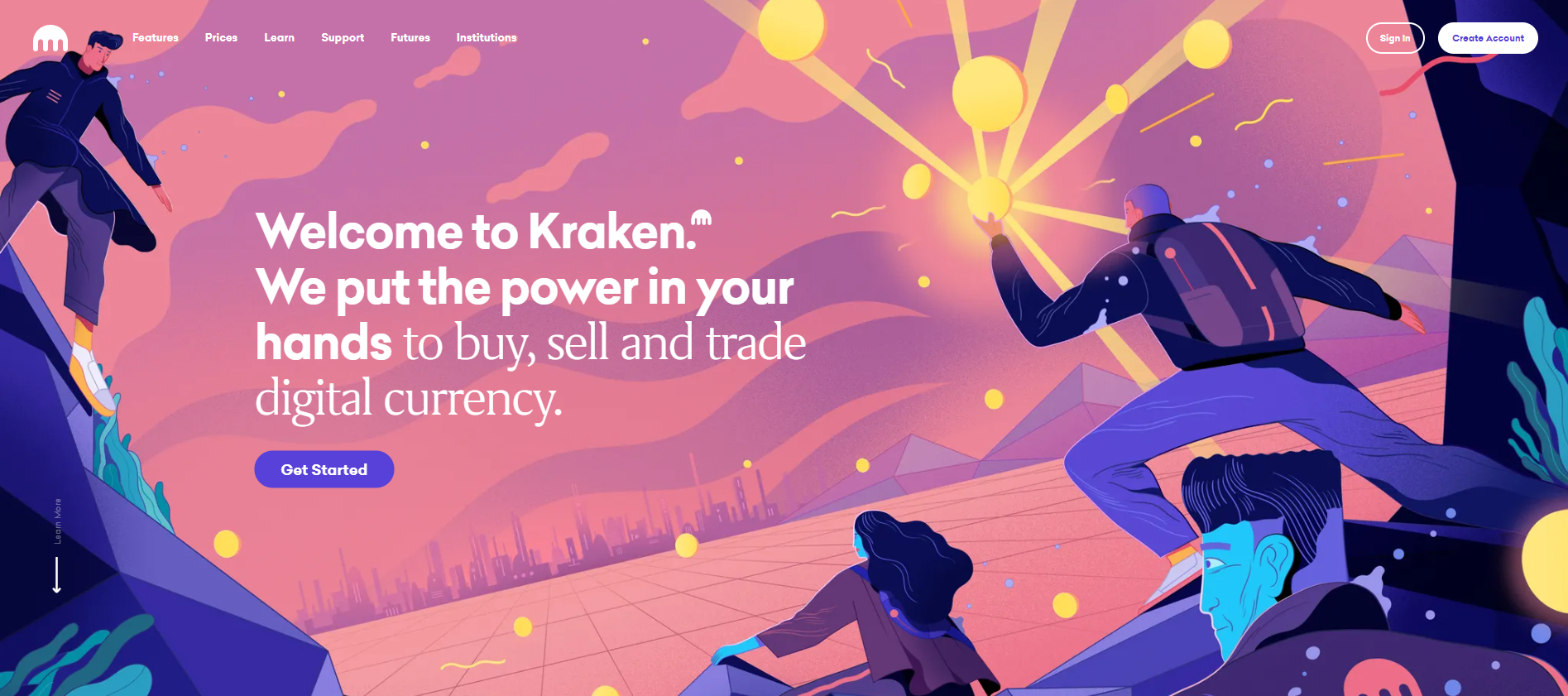 Kraken is a largely secure platform that features two-factor authentication and targets investors with varying levels of experience – from beginners to professional traders. 
With over 30 cryptocurrencies that the platform offers investors to trade against Bitcoin, there's a healthy range of trading pairs available. 
One of the things that makes Kraken one of the better crypto exchanges in our list stems from the lower fees associated with the platform when it comes to deposits taking place in both the USA and Europe – however, these perks aren't available to users all around the world, and some traders may struggle to see the benefits of lower fees. 
Kraken is one of the most trusted names in crypto trading and it supports more complex crypto trading like margin trading and futures. The exchange has become the world's largest exchange in terms of EUR volume and liquidity – illustrating its lofty position in the market. 
If you're a more intermediate level of crypto trader looking to make use of better visualisations and scalable features to accompany portfolios, Kraken could well be an ideal place to go.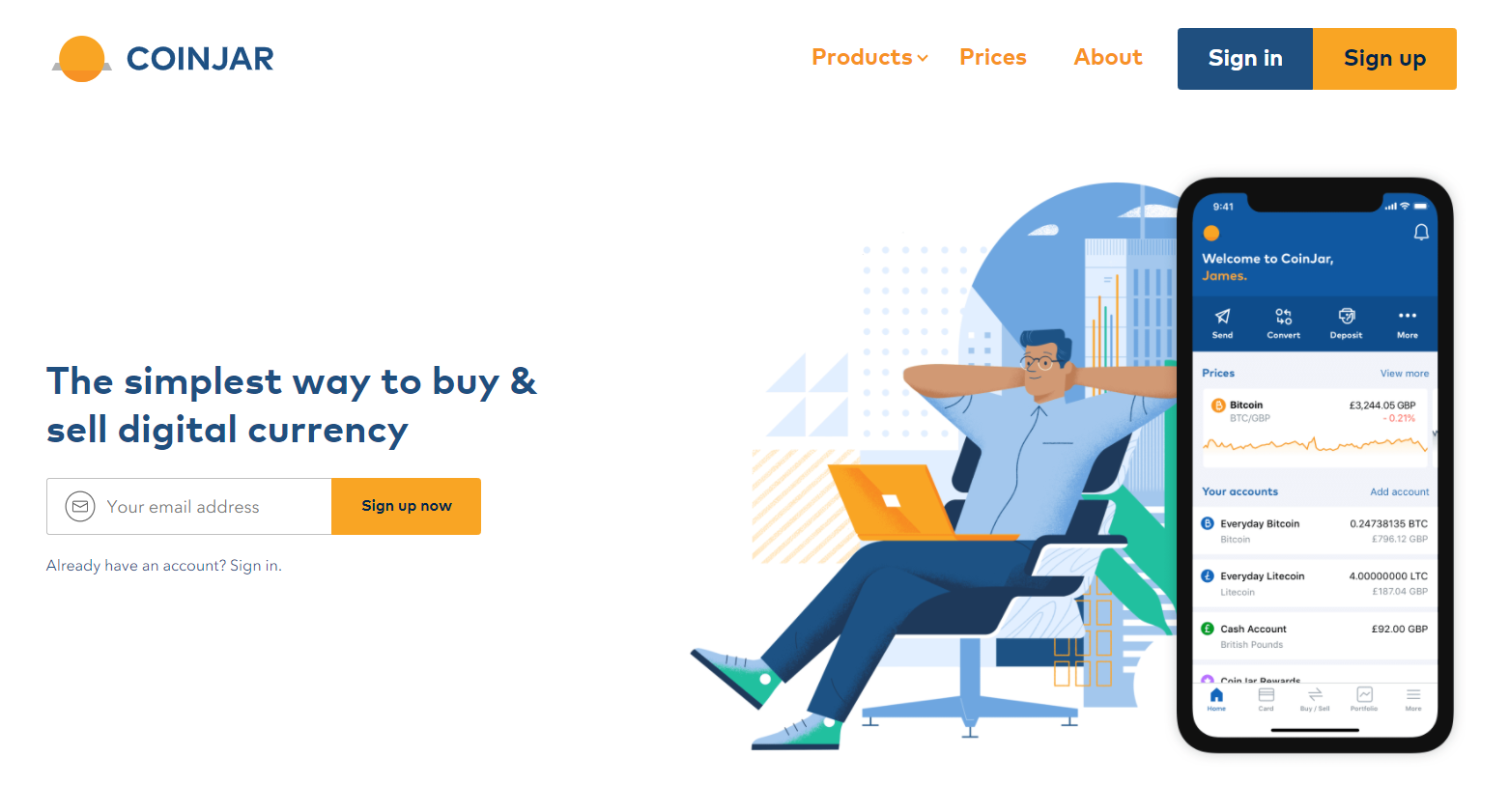 One of the most striking features of CoinJar is that its verification process is relatively quick and easy, with most users able to get themselves fully registered and ready to trade in 10 minutes. 
With over 400,000 users and a credible four-star TrustPilot rating, CoinJar has developed into a reputable exchange for users of varying degrees of experience in trading cryptocurrencies. Since establishing themselves in 2013, CoinJar has handled over £750 million worth of assets. 
Sadly, at the time of writing, CoinJar is only limited to users in both Australia and the United Kingdom. However, users from all around the world can register to use the platform's digital wallet with ease. 
One of the best features of CoinJar is its CoinJar Exchange platform, which offers rich insights into the performance of various coins that can be highly useful for more experienced traders. 
With around 13 cryptocurrencies listed, CoinJar is somewhat limited when it comes to more diverse coins, but with a flat 1% fee upon the purchase and sale of cryptocurrencies, the exchange is relatively competitively priced for users.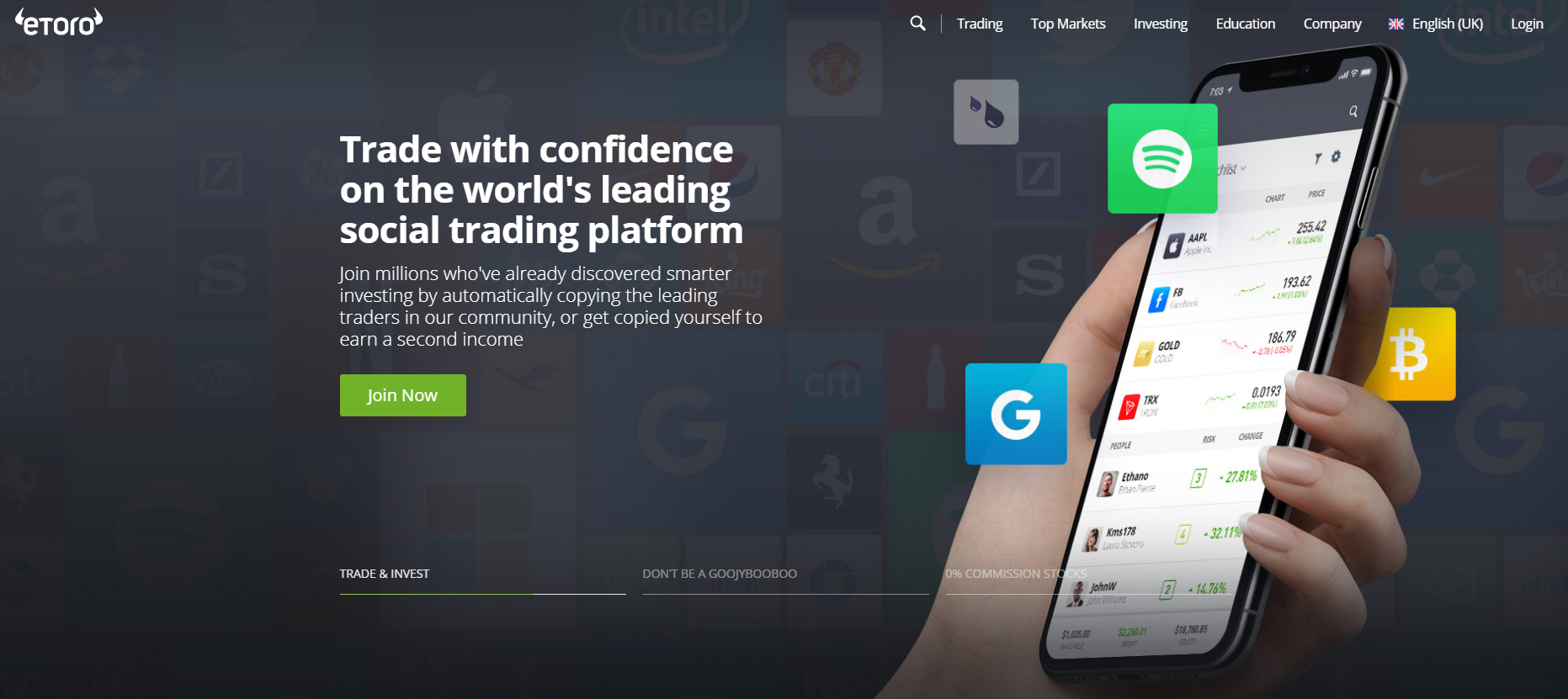 With a customer base of five million investors worldwide, eToro is a huge brokerage that lists around 100 cryptocurrencies for investors to embrace. 
The brokerage is fully regulated by the FCA and CySec, and investments are fully protected under industry-leading security protocols. eToro is also a resourceful exchange that's been in existence since 2006, and the platform has invested heavily in its usability and interface. 
With such a wide range of cryptocurrencies available to invest in, eToro is an ideal place to start for investors who know a thing or two about various coins and know where their first market moves will be. The platform also offers a copy trading feature for investors looking for the best time frames to invest in their assets. 
However, one of eToro's biggest drawbacks is that there is a slow verification process for traders – meaning that if you're looking to quickly sign up to catch a coin as it begins to rise, you're better off going elsewhere. Withdrawals can take some time to ratify too.
As it's a brokerage that covers much more than the world of crypto, eToro can be an ideal platform for users who would like to combine cryptocurrency shares with other fiat stocks and shares.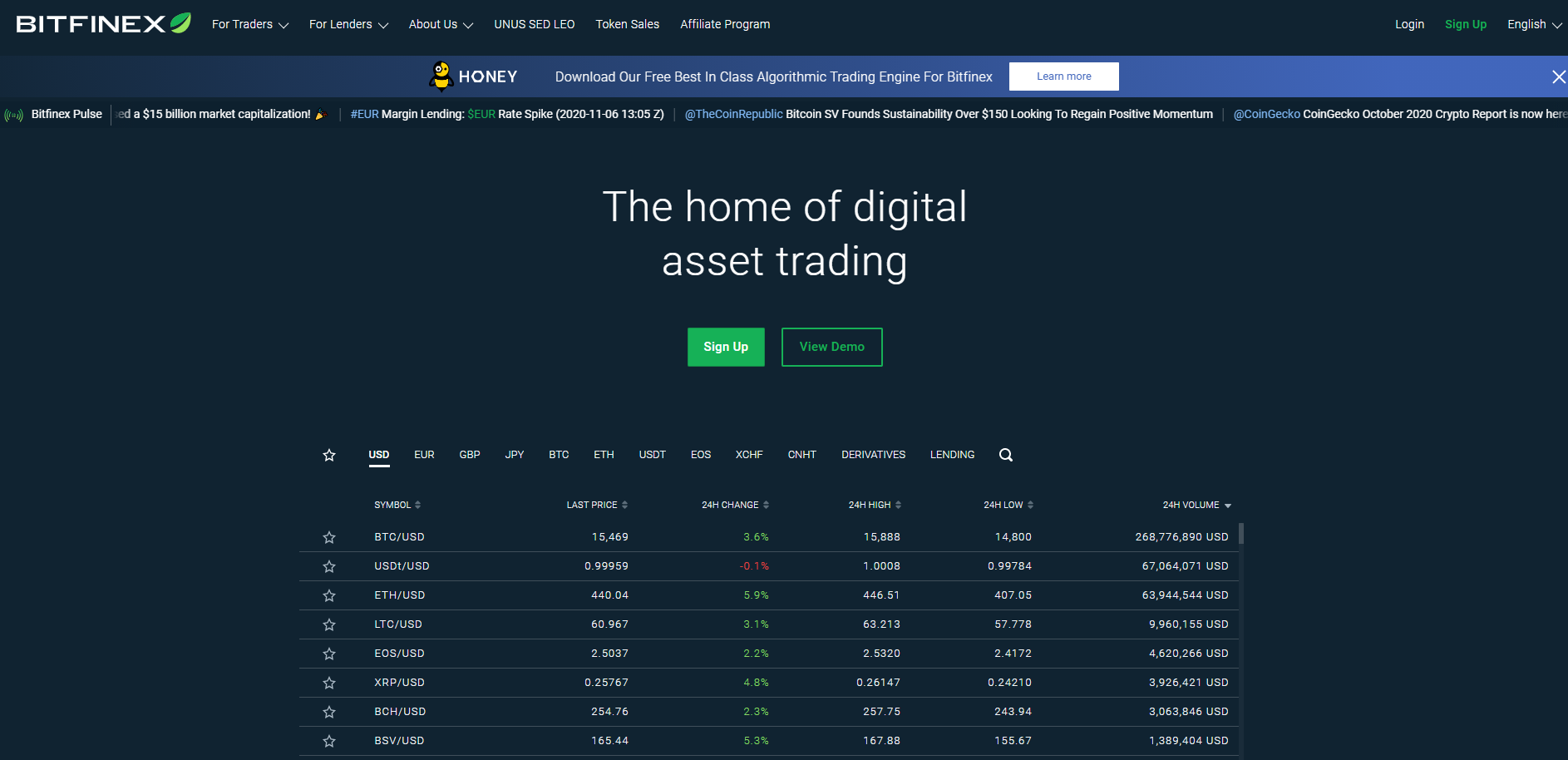 Firstly, one of the very best things about Bitfinex is that the exchange supports anonymous trading. This can be particularly good news for would-be traders who are put off by the level of regulations and requirements that go into setting up accounts on KYC platforms. It's also good news for investors from countries that have strict laws on the purchase of crypto assets online. 
Trustworthy crypto exchanges that offer non-KYC accounts to users are hard to come by, but Bitfinex is certainly a market leader in this regard. With Bitcoin and over 160 altcoins listed on the exchange, users of varying degrees of crypto fluency will have no trouble finding coins that excite them for short and long term investments. 
However, the elephant in the exchange is this: Bitfinex suffered from a significant cyber-attack in 2016 from which the platform has struggled to shake off in the years since. The platform has lost volume from the same time, and as a result, the verification process of non-anonymous accounts is much more stringent as the exchange bids to turn a corner from the troubling event. 
Despite this, Bitfinex is a great resource for traders who wish to anonymously access a large volume of coins using a reputable exchange.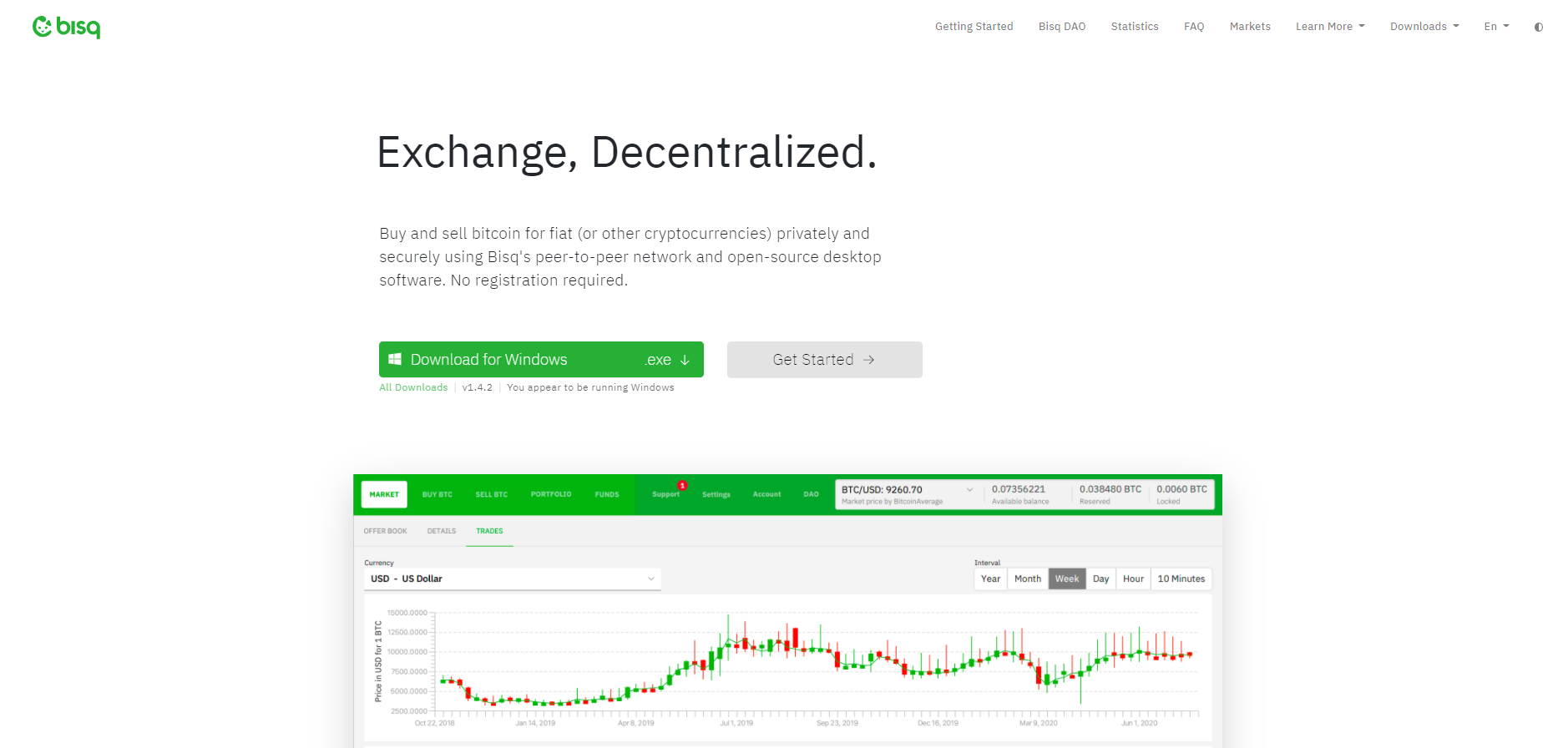 Bisq is the first decentralised exchange on our list. The open-source desktop software on the platform helps users to buy and sell cryptocurrencies both easily and securely – without any registration required. 
Due to Bisq's decentralised nature, the exchange has no censorship and extremely strong levels of security. The range of coins listed on Bisq is impressive, too, with over 57 different cryptocurrency pairs on the site. 
One of the biggest drawbacks of decentralised exchanges is that they can often have complex interfaces and little in the way of user-friendly features. But Bisq, however, has invested plenty of time in creating a straightforward platform that champions the freedom and security of decentralisation while remaining committed to the easy-to-use interface of more centralised platforms. 
Despite this, the interface used by Bisq isn't great for active trading, and due to a wide level of favourability towards centralised exchanges, Bisq's liquidity is relatively low – meaning that the exchange could be more prone to erratic behaviour.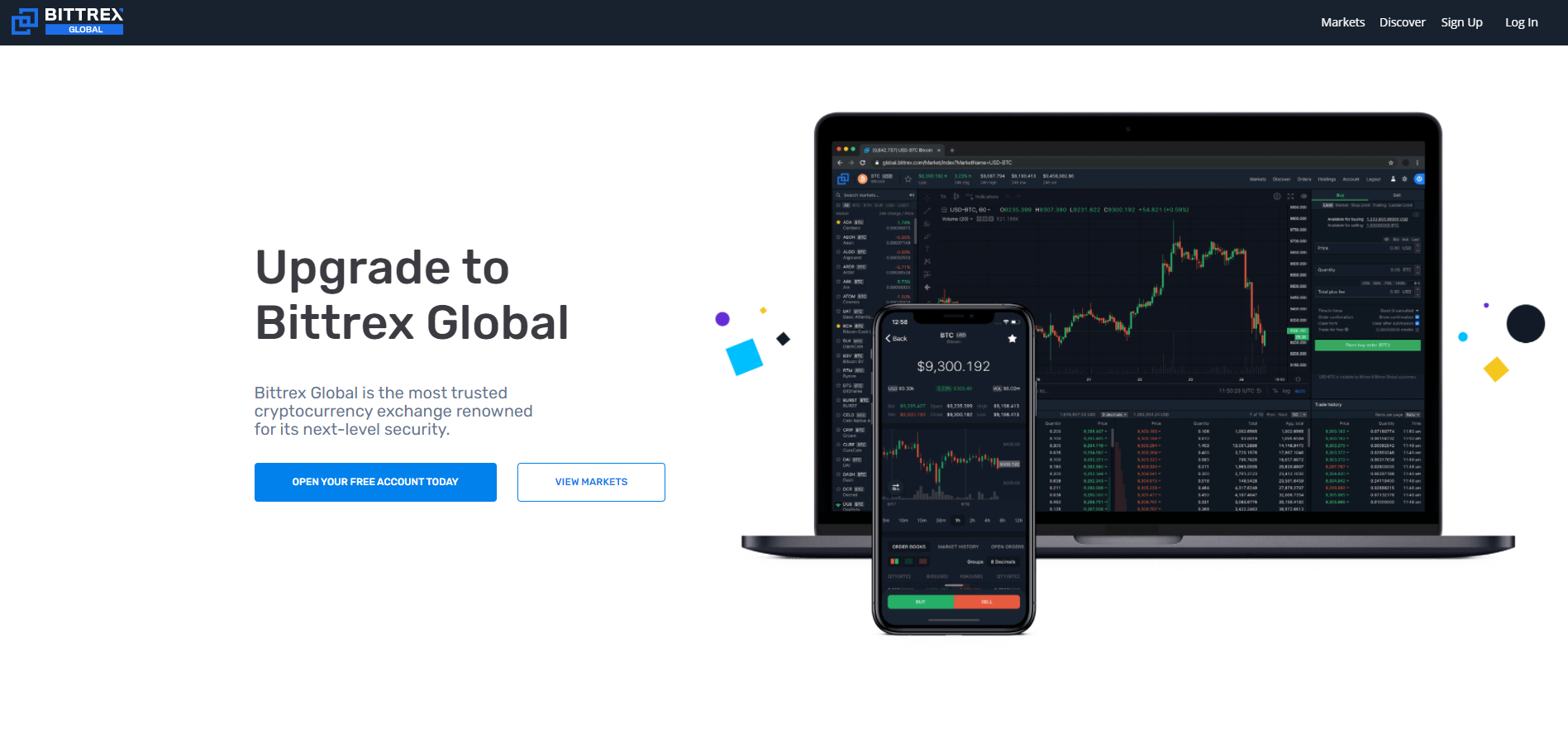 Another platform that offers a degree of anonymity is Bittrex. During the famous bull run of 2017, Bittrex experienced a daily volume of over $150 million – making it one of the busiest exchanges in the world. 
Today, the exchange offers a lot of tempting features for both new and experienced traders, such as competitive fees, greater levels of support and security, and consistent service uptime. 
Bittrex even offers one-minute charts to traders, making cryptocurrency arbitrage trading a significant possibility in a way that other platforms may not be able to support. 
However, the platform does have its drawbacks. Despite being a significant part of the crypto craze of mid-to-late 2017, Bittrex today can suffer from low liquidity with certain assets. The exchange also doesn't offer margin trading. 
However, with a repertoire of over 200 crypto assets, this platform can be a great place for users to invest in various coins that wouldn't otherwise be accessible on platforms like Coinbase.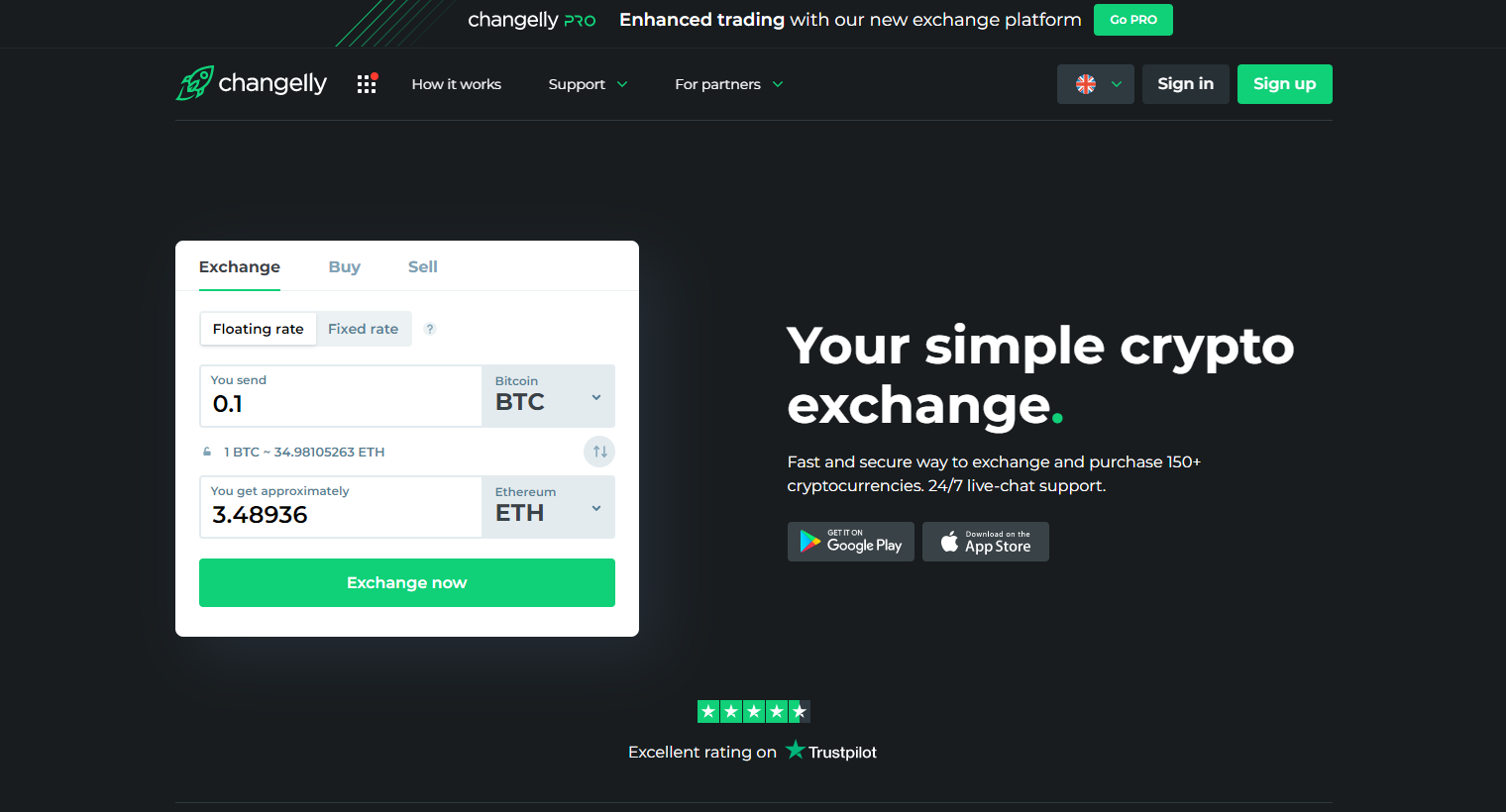 Changelly is a resourceful and easy-to-use exchange that offers instant transactions and a rich level of security. 
One of the bigger appeals of Changelly is that the exchange supports over 90 cryptocurrencies – however, it's worth noting that only 35 of these can be purchased with fiat money. 
Changelly offers anonymous trading, and users can get set up with the service by providing only their email address to get started. Subsequently, they'll receive their password via email and will be ready to get trading. 
Backed by a well-designed and fully functional website, Changelly's usability is excellent. However, the platform has been criticised for its approach to security recently due to the lack of regulation on how accounts are set up, and higher rates for purchases can sometimes eat into the profits of traders. 
Regardless, Changelly remains one of the very best anonymous exchanges that users can get to grips with in confidence.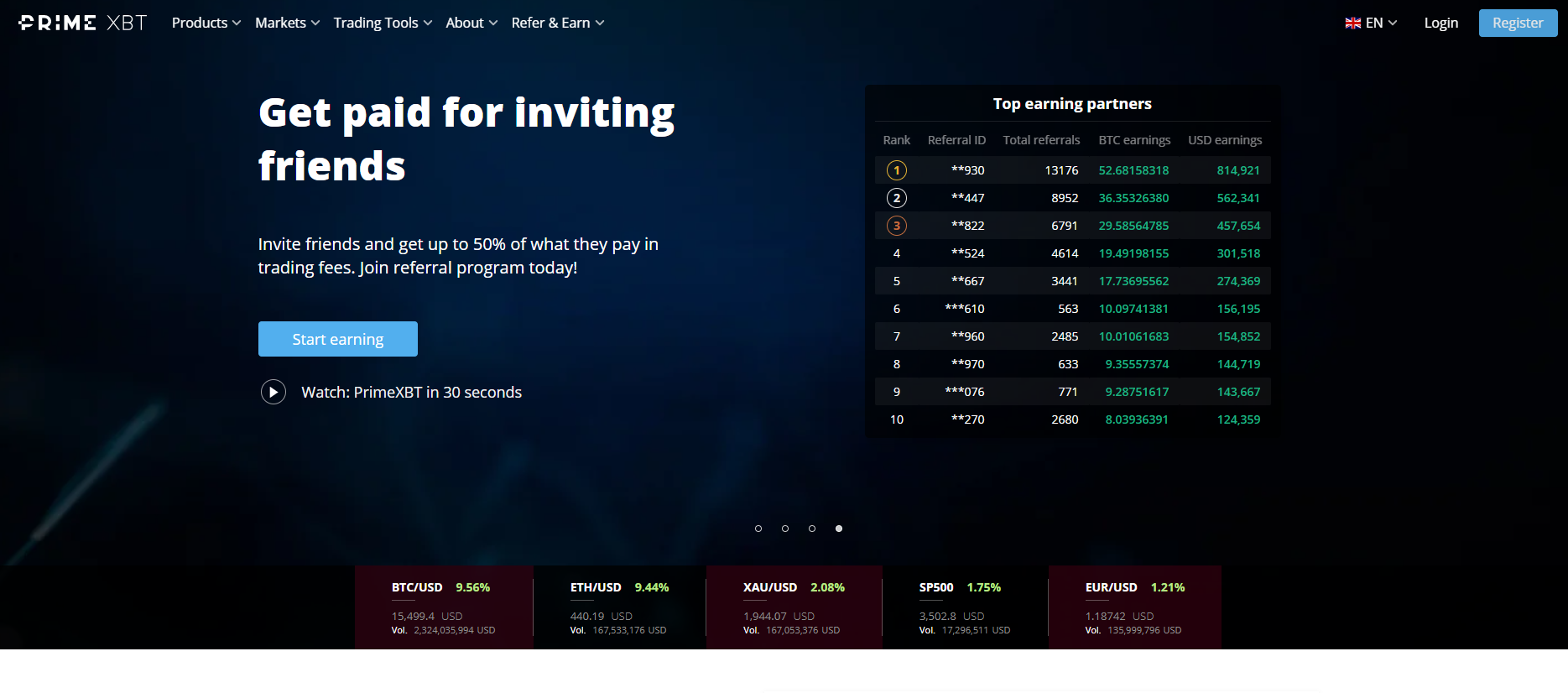 As a centralised exchange, PrimeXBT supports not only cryptocurrencies but stocks and shares too. The exchange gives leverage options for trading cryptocurrencies and various other commodities, stocks, CFDs, indices and forex. 
The unregulated platform allows investors to trade various cryptocurrencies and assets without the interference of government or central authority regulations. 
The fairly standard trading fee of 0.5% on cryptocurrencies offered by PrimeXBT is fairly competitive, but investors need to be warned of the platform's overnight trading fees that will be levied on all trades after midnight at a rate of $8 for each Bitcoin traded. 
This exchange is certainly a strong option for users who wish to trade forex as well as crypto, and PrimeXBT's simple interface as complemented by powerful features that can benefit intermediate traders. 
However, traders need to be aware that high minimum limits may be off-putting. Some investors may also be uneasy at the lack of regulation on the platform.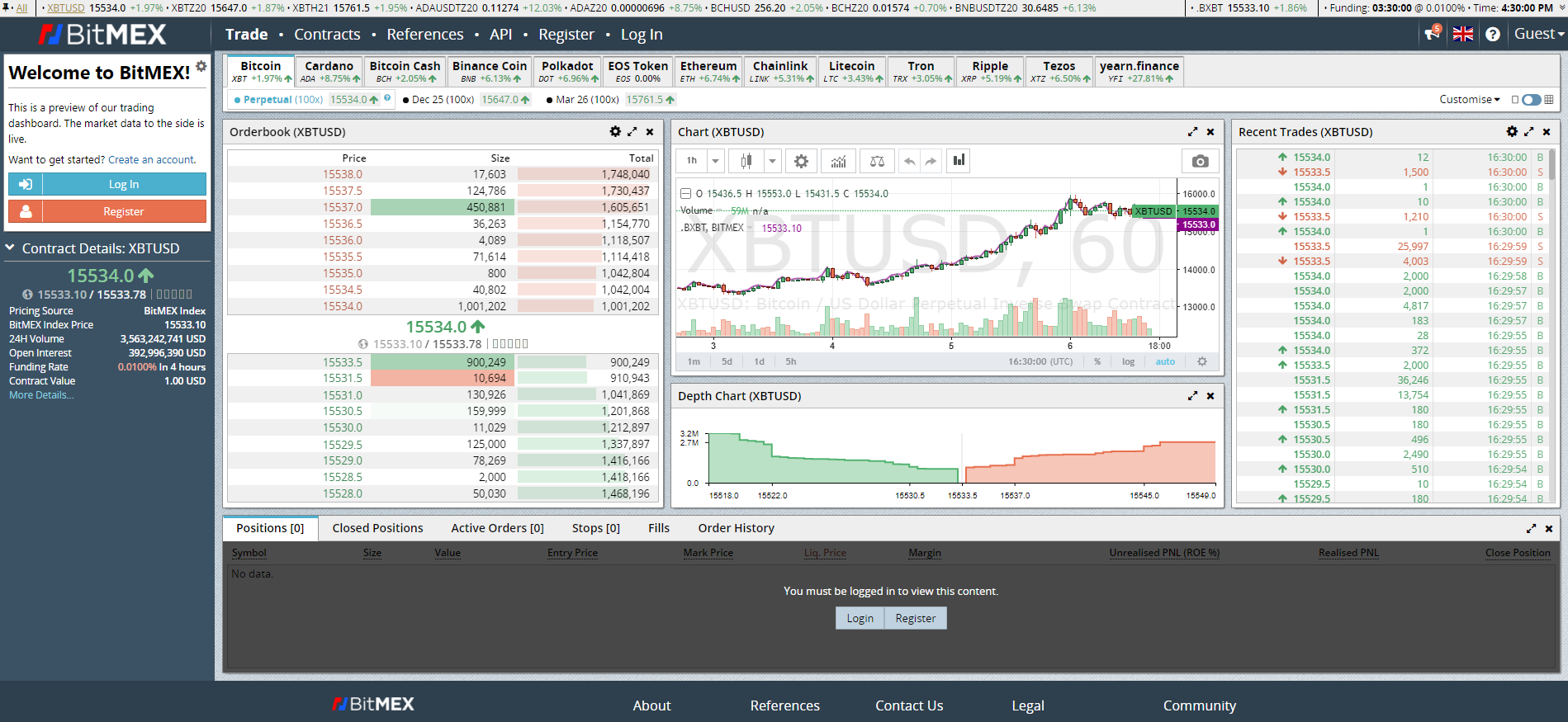 BitMEX is one of few cryptocurrency exchanges to offer introductory deals to users, which seems like a nice way of helping new traders to ease into the wild world of crypto trading. 
With 10% fee discounts available for the first six months of usage, inexperienced traders have something of a safety net to support some of the riskier purchases they make as they learn the ropes. 
BitMEX boasts the highest liquidity on the market, however, the platform remains shrouded in some degree of controversy, and has been labelled more of a 'casino' than an exchange in the past due to high leverage trading that can cause significant profits and losses in a matter of minutes. 
The platform is well known for its margin trading, and at its peak, reached a trading volume of $8.16 billion in one day. 
The platform is wildly popular and has become a significant tool for cryptocurrency 'whales' – individuals who hold positions worth millions of dollars daily. 
The wealth of insights offered by BitMEX is rich, and the complexity of the website means that it's probably not the place for inexperienced traders. However, when you have the confidence to trade with confidence, this could be the best place to turn a small fortune. 
However, BitMEX has other controversies that are important to note. The platform was subject to an email leak in 2019 while there are also heavy restrictions in place for US traders.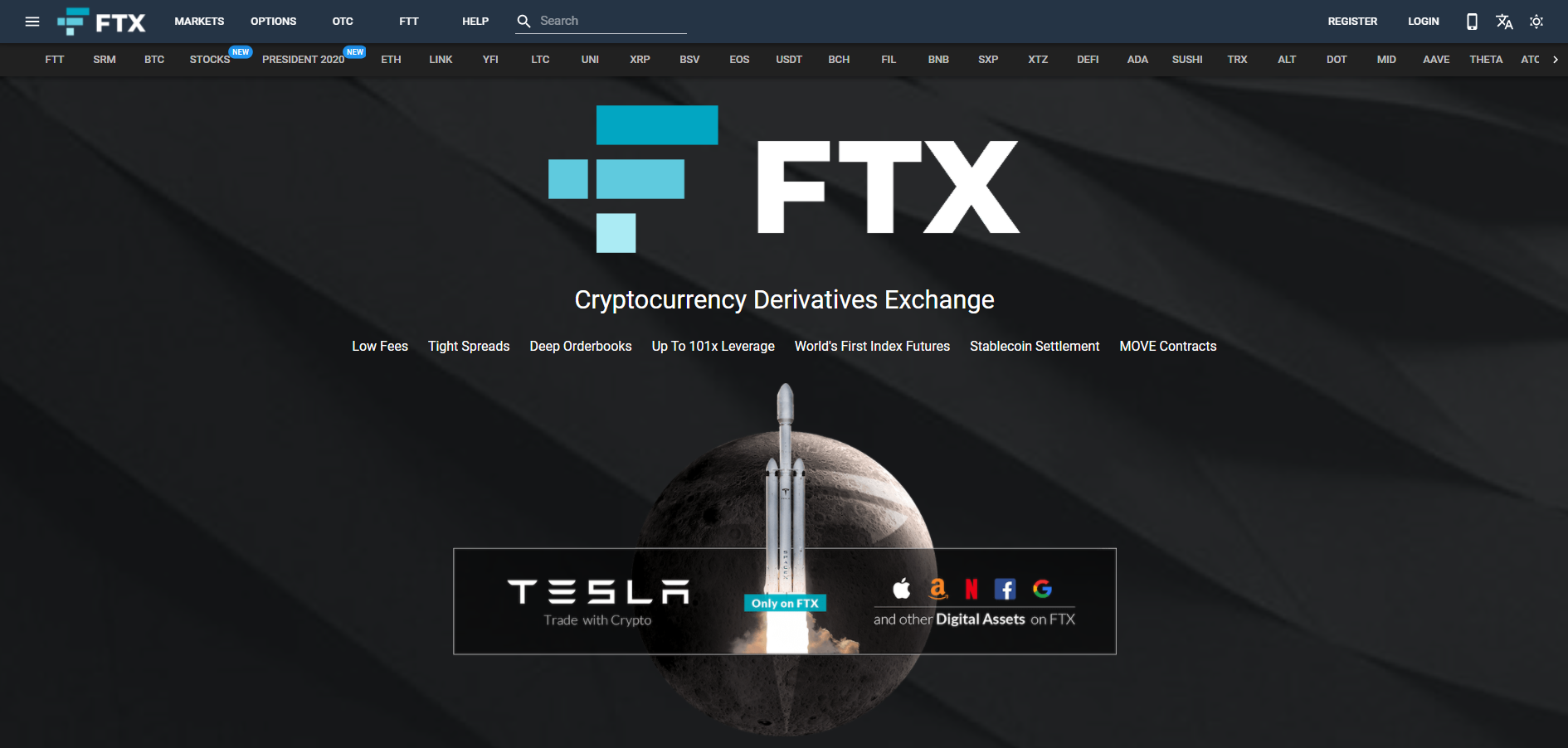 As a cryptocurrency exchange that offers futures and leveraged tokens, FTX takes on a similar role to that of BitMEX, but with the possibility of more anonymous trading. 
Unlike its rivals, FTX doesn't need proof of identification to allow users to withdraw under $1,000 of their holdings – making the platform very useful for individuals who are looking to trade in confidence. 
FTX also allows deposits to take place with all of its leveraged tokens, stablecoins, Bitcoin, Ether, Litecoin and Tether – providing an extra degree of convenience for traders. 
Having only launched in 2019, FTX is very new to the world of leveraged crypto trading, which means that it's difficult to gauge its level of trustworthiness and the competency of security offered. 
However, with a wide range of tokens available, and the offer of perpetual swaps for 15 of its listed assets, FTX has shown itself to be a resourceful future competitor for BitMEX. With trading volume on the platform at a relatively low $50 million, there's plenty of growing space for the newcomer to the world of crypto. Although it may need to work on improving its user interface before mounting a bid to steal the crown off of more reputable leveraged exchanges.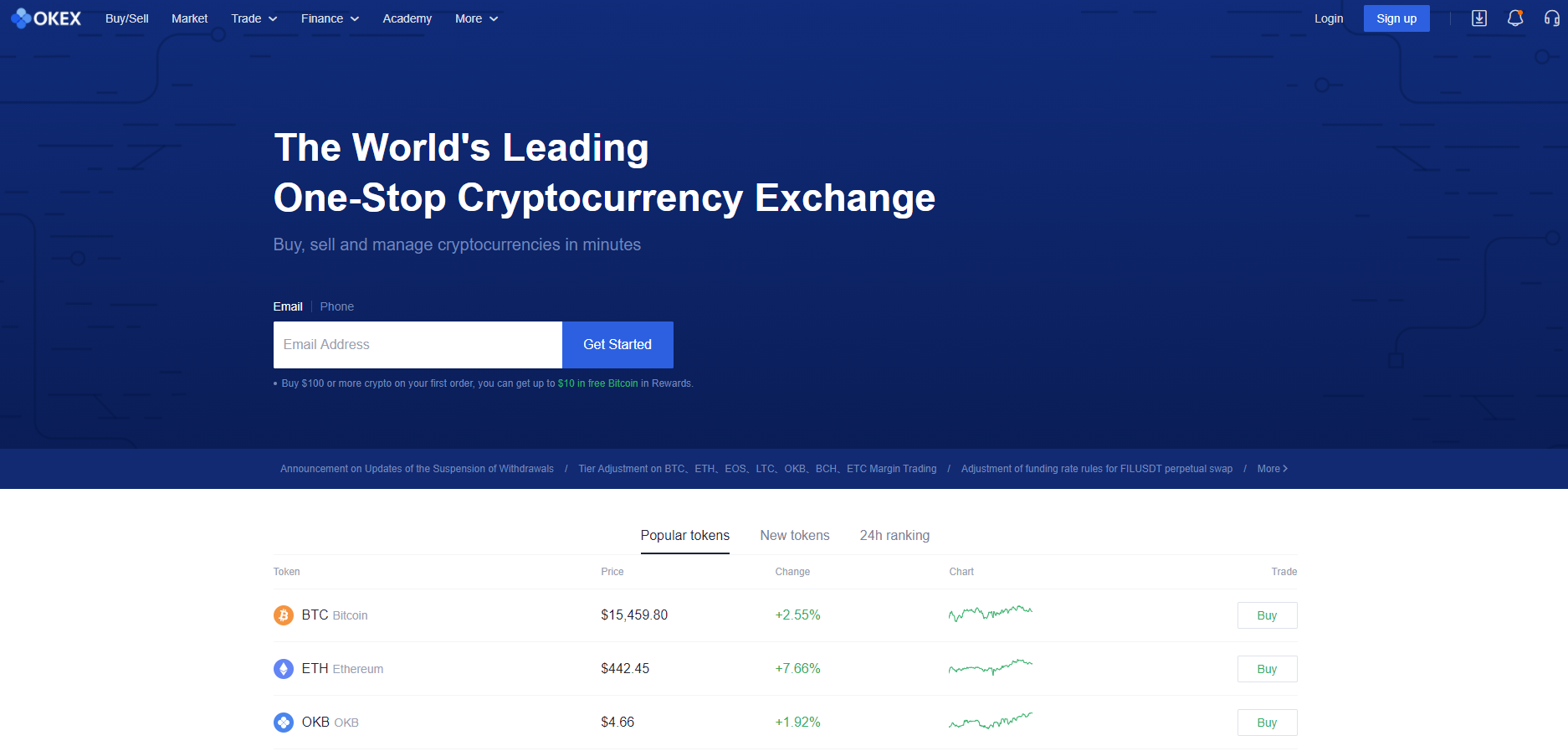 OKEX is one of the world's leading cryptocurrency exchanges in terms of liquidity, supported assets and various features. 
The functionality of the exchange means that both inexperienced and experienced traders alike can enjoy and profit from the array of services at their disposal. With competitive trading fees added into the mix, OKEX could be one of the best places for active traders to record profits. 
Furthermore, the platform accepts PayPal payments and to this date has never been severely hacked in a cyber attack. 
With over 20 million users worldwide, OKEX has managed to become a wildly popular platform for cryptocurrency trading in the space of just three years. One of the leading reasons behind this success may be down to the lack of deposit fees that customers need to cough up before selecting their investments. 
Traders also gain access to a wide range of crypto assets to enjoy, as well as spot and derivative trading services. 
However, it's important to note that the platform doesn't serve customers from the United States. There are also withdrawal transfer limitations that can hinder traders depending on their location and banking situations.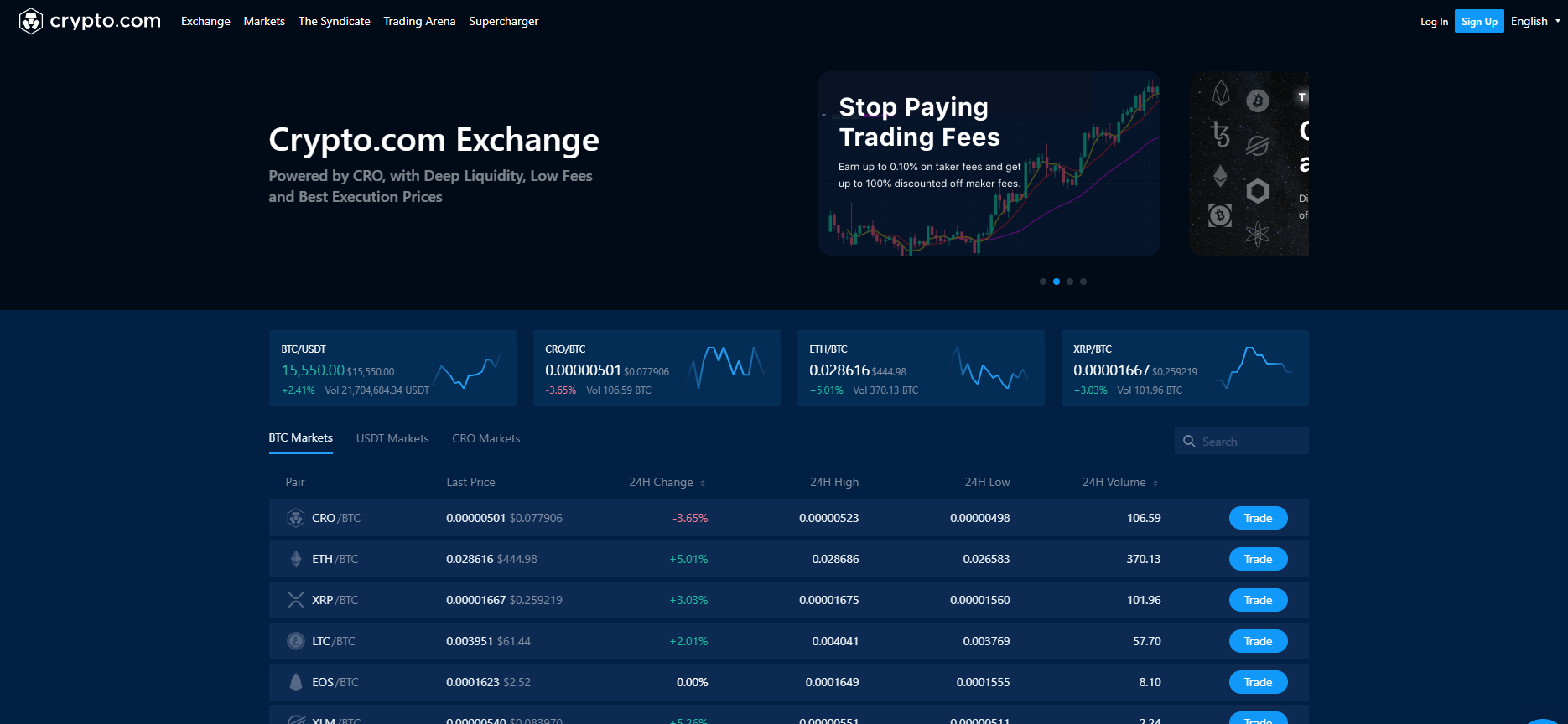 One of the biggest draws for Crypto.com's exchange services is based around the platform's issuance of Visa debit cards. These crypto-friendly cards can help users to gain better access to their funds with competitive fees and the chance to earn rewards with reputable companies like Spotify and Netflix. 
Another key feature of the platform is that it's continually updating itself to ensure that it remains competitive with other exchanges. The list of supported assets on the exchange is extensive, with as many as 56 market pairs available on the platform. 
Crypto.com also offers a greater range of security for its users, and 100% of the currencies owned by users are kept in cold storage to ensure that they're safe from hacking attempts. 
The exchange has also secured a significant $100 million insurance policy led by Arch Underwriting at Lloyd's Syndicate 2012. This helps to ensure that customers won't be left empty-handed should the worst occur and their funds are stolen overnight. 
The most significant drawback of Crypto.com, however, is that the platform isn't available everywhere, and traders in the United States will be unable to access the exchange for use.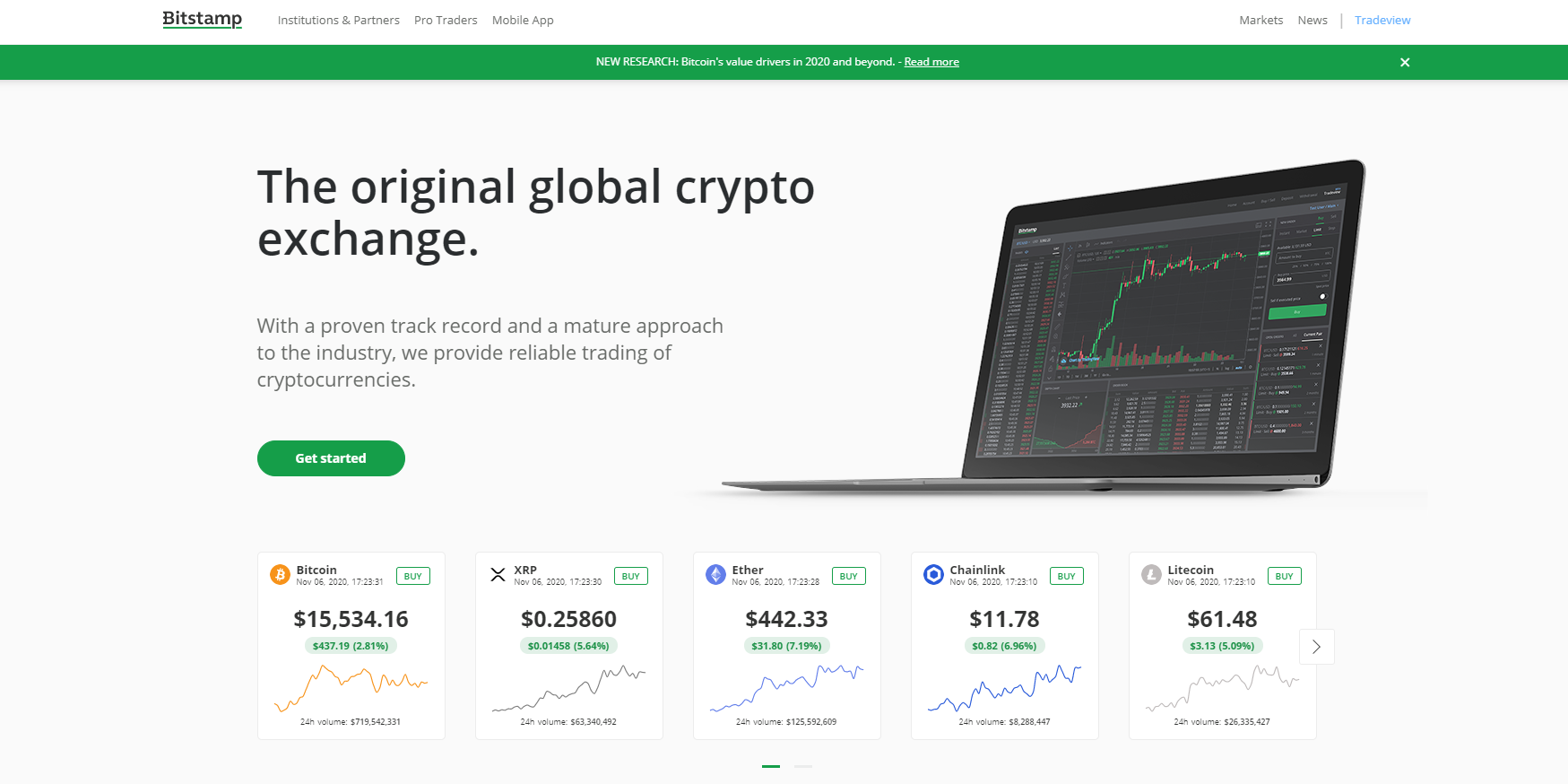 Last but certainly not least we have Bitstamp. Founded all the way back in 2011, Bitstamp is widely regarded as the oldest cryptocurrency exchange of its kind. 
The tools showcased by Bitstamp may seem complex at first, but the friendly user interface ensures that the various visualisations and graphs are easy to pick up for traders looking to learn the ropes quickly. 
Due to its location in Luxembourg, Bitstamp is well placed to serve countries within the European Union due to its various regulation rules. 
Although Bitstamp isn't blessed with the widest range of listed cryptocurrencies, it hosts the likes of Bitcoin, Bitcoin Cash, Ether, Ripple and Litecoin – essentially the major players in the industry. 
The usability offered by Bitstamp is excellent, with purchases which can be made in fiat currencies like the Euro and US dollar. Bank wire transfers and bank deposits are also supported on the platform. 
Due to its long-serving nature and advantageous location for European traders, Bitstamp enjoys a high level of liquidity within its exchange and offers relatively low fees for users. 
The level of depth that the trading platform offers means that intermediate and experienced users alike can especially enjoy the features available on the platform, too. 
However, it's worth noting that support for the platform is relatively low, and Bitstamp has a rigorous KYC verification process that can leave customers waiting for a longer time to confirm their identity and begin trading. Some critics have even called the identity verification process 'invasive.'
The great thing about the wild and often breathless world of cryptocurrencies is that there's no shortage of ways in which traders can invest and no shortage of ways in which they can do so.
Whether you're looking to embrace Bitcoin before the asset goes mainstream, or you want to try your hand at trading various altcoins, different exchanges can provide various levels of support, anonymity, regulatory compliance and a wide range of assets to choose from. 
Be sure to ask yourself what you're aiming to achieve in terms of the exchange that you want and pick the service that suits your needs best. In the world of cryptocurrencies, there's always something for everyone.